Braces For Teens: An Overview
Between the ages of 10 and 15, most permanent teeth (if not all) have emerged, and problematic orthodontic conditions become more apparent. During these years, the jaw bones are still developing and are most susceptible to growth modification. Beginning orthodontic treatment with braces in the early teen years can minimize treatment length and support your child in building strong self-esteem that serves them for a lifetime!
How Do I Know If My Teen Needs Braces Or Another Treatment?
The best way to tell whether your teen is in need of orthodontic treatment is by bringing him or her in for a free orthodontic consultation with our experienced orthodontists. We'll examine your teen's condition and discuss any symptoms they may be experiencing to determine if orthodontic treatment will be beneficial.
In the meantime, you can look out for any of the following symptoms that may indicate a need for braces:
Hiding a smile or lack of confidence when smiling
Jaws or teeth are disproportionate to the rest of the face
Difficulty or discomfort when biting or chewing
Early, late or irregular loss of baby teeth
Crooked, crowded, or gapped teeth
Grinding or clenching the teeth
Thumb sucking/finger sucking habits in childhood
Jaw pain or facial pain
Jaw shifting, popping, or clicking
Persistent mouth breathing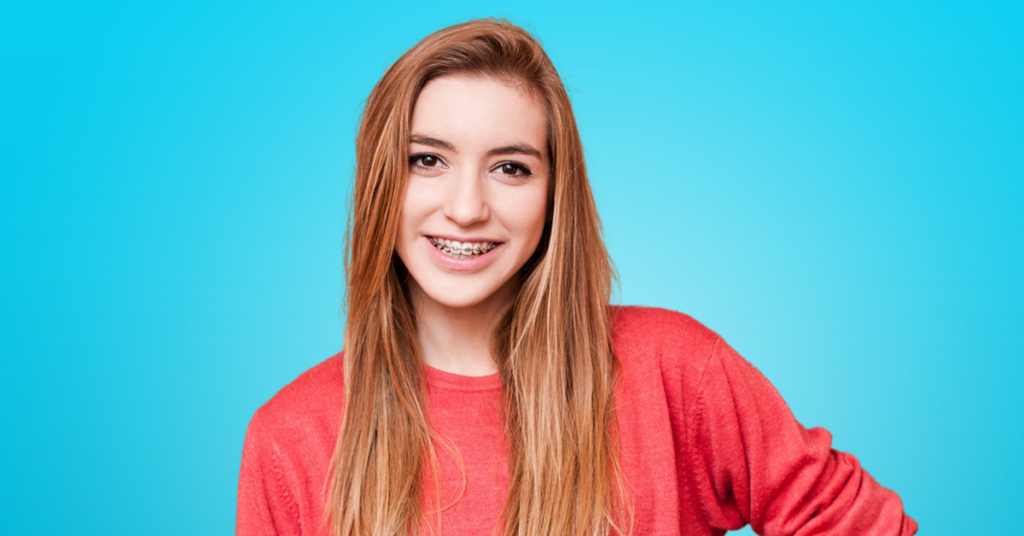 What Is The Cost Of Braces For Teens?
Just like our treatment plans, our payment plans are personalized for each patient. We believe everyone deserves a beautiful smile, no matter their financial situation.
The cost of your teen's braces will depend on a few factors, including the length of his or her treatment, your orthodontic insurance coverage (if you have insurance), and the specific payment plan you choose with us.
When you and your teen visit us for your free consultation, we'll discuss the cost of treatment and work with you to develop a financial plan that meets your needs.
What Are My Teen's Treatment Options?
Your teen isn't limited to one type of braces with us! Not every teen loves the idea of traditional metal braces, and that's okay. That's why we provide gold braces for a one-of-a-kind smile, as well as clear ceramic braces for a more discreet appearance.
Every case is unique. We create treatment plans that are 100% personalized to each patient. Depending on the severity of your teen's case, surgical orthodontics or an appliance like the Forsus device or palatal expander may be the most efficient route.
We'll know the best solution once we assess your teen's smile in person!
Have Questions About Braces For Teens?
Please don't hesitate to reach out to us with any questions! We're always happy to hear from you. We're here to guide you through your treatment process, from your very first visit to your last appointment.
If you're looking for a top orthodontist in Royal Palm Beach, Lake Worth, Boynton Beach, Delray Beach, West Boca Raton, East Boca Raton, Margate, Downtown Ft. Lauderdale, North Ft. Lauderdale, or Pembroke Pines, we'd love to meet you! Request a free consultation for you or your teen today.