How Do I Know If I Need Braces?
If you notice any of the following signs or symptoms, this may indicate a need for braces.
Difficulty speaking, chewing, or swallowing
Teeth don't meet evenly when closing the mouth
Speech difficulties
Biting the cheek frequently
Persistently bad breath
Self-conscious about your teeth or smile
Crooked, crowded, or gapped teeth
Issues with your bite (an overbite, underbite, crossbite, or open bite)
A strong or recessed jawline
Clicking or popping in your jaw joints (TMJ)
Snoring or poor quality of sleep (sleep apnea)
In the past, getting braces meant one thing: wearing traditional metal braces. Now, there are new, more modern types of braces available and patients have a choice in their treatment! Additionally, traditional metal braces have greatly improved over the years, making them more effective and more comfortable than ever before. We offer the following types of high-quality braces for children, teens, and adults.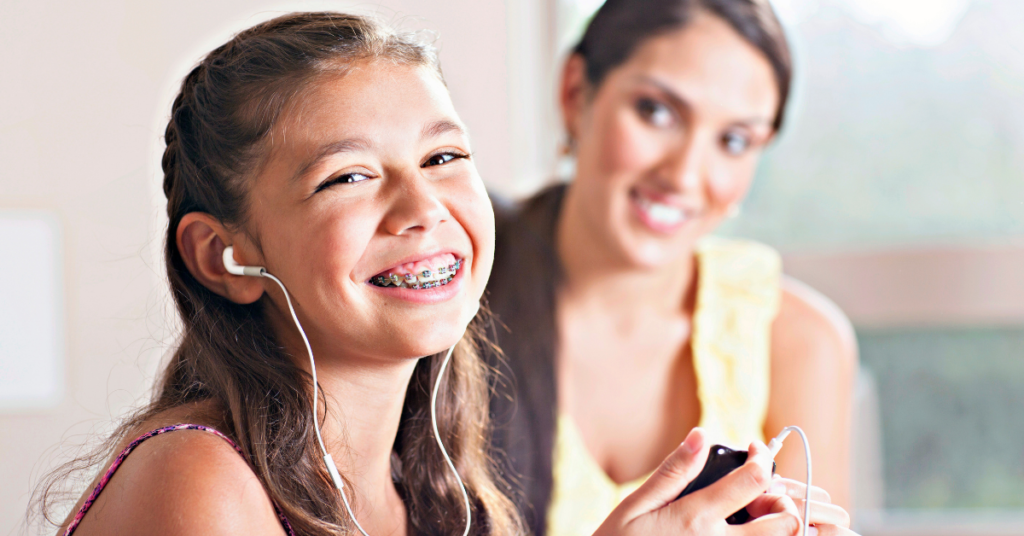 Traditional Metal Braces
Traditional braces, the most popular type of braces, are ideal for children, teens, and adults! They use brackets and wires to treat not only cosmetic concerns but to treat functional concerns and improve your quality of life too! We're proud to offer high-quality, durable metal braces at ten convenient locations in South Florida. Our experienced orthodontists can treat a variety of conditions, from simple to complex, including malocclusions (bite misalignments), crooked teeth, crowded teeth, and gapped teeth.
Traditional metal braces are the most common form of braces used in orthodontic treatment due to their effectiveness and low cost when compared to most other types of braces. They have been greatly improved over the years, using higher quality materials, sleeker designs, and more comfortable treatment methods.
Throughout your braces treatment, every 6 to 8 weeks (depending on your personalized treatment plan), you'll visit us to check in on your progress and adjust your braces. During these appointments, we'll ensure that you're on the right track to your new smile!
At your braces adjustment appointments, we may replace your archwire and adjust a bracket or two, and you'll have the option to choose from a variety of colored rubber bands to replace your old rubber bands. You can get creative with your metal braces colors to express your style!
What Are Traditional Braces Made Of?
We provide high-quality teeth braces made out of stainless steel material. They're made out of a number of components, including carbon, aluminum, silicon, molybdenum, nickel, and chromium. Stainless steel braces are strong, won't rust or corrode, and are safe to submerge in water (of course).
Cost Of Metal Braces
The cost of braces at Cooper Orthodontics is affordable! We offer affordable; flexible payment plans to help you cover the cost of treatment. Our treatment coordinator will work with you to design a payment plan that meets your needs.
The cost of your treatment will depend on a number of factors, including the length of your treatment, the severity of your pre-treatment condition, and the payment plan you choose.
Clear Ceramic Braces
If you're looking for a more discreet treatment for you or your child, we have the perfect option for you! Our experienced orthodontists provide high-quality 3M™ Clarity™ Ceramic braces at 10 locations in South Florida.
Ceramic braces are used on the top dental arch and are practically invisible. These special brackets are designed to blend in with the natural color of the teeth so that you can smile confidently throughout your treatment!
The Pros Of Ceramic Braces
Many of our patients come to us seeking a form of non-detectable, invisible braces! Ceramic braces are clear, blending in with the natural color of the teeth, but they're just as effective as traditional metal braces. We use 3M Clarity brackets because they're designed for comfort and for optimal esthetics. These brackets have smooth, rounded surfaces and corners that shouldn't irritate your mouth. 3M Clarity brackets are also strong and durable, made of fine-grained alumina that is virtually undetectable when bonded to the teeth.
Ceramic braces are modern, highly effective, comfortable, and designed for optimal aesthetics. Therefore, the ceramic brackets we use do not stain. These are stain-resistant, so you don't have to worry about your translucent brackets turning yellow!
Ceramic Braces Vs. Metal Braces
When it comes to ceramic braces Vs. metal braces, the main difference is the appearance of the brackets. Ceramic braces are just as effective as traditional metal braces, and both types of braces use bracket-and-wire technology to reposition the teeth and align the jaw bones to create a beautiful, healthy smile.
Ceramic Braces Vs. Invisalign
If appearance is your concern, both ceramic braces and Invisalign® clear aligners are great options. If you're looking for a treatment that you can remove as you need throughout the day, Invisalign may be better suited for you.
Both Invisalign and clear ceramic braces are discreet and practically invisible, making them ideal for your social life and professional life.
Ceramic braces use brackets and wires, while Invisalign uses sets of custom-designed clear aligners to reposition the teeth and jaw bones. The best treatment method for you will depend on your personal preferences.
Are you committed to wearing your clear aligners for at least 20 to 22 hours a day? If not, maybe ceramic braces that you don't have the freedom to remove are best. If the removability feature of Invisalign is ideal for your lifestyle, Invisalign may be best for you.
At your free consultation, we'll assess your current condition and discuss your lifestyle preferences to help you make the right decision for your smile!
Gold Braces
Are you someone who likes to stand out from the status quo? Gold braces are a great treatment for patients who require a traditional braces treatment, but prefer the look of gold brackets and wires. This treatment is equally as effective as metal braces; they just have a different appearance!
For kids, teens, or adults who want a one-of-a-kind smile while you journey to your new smile, gold braces are a great option.
Gold braces are made of high-quality stainless steel, the same material used for metal braces. Metal braces are then covered in pure 24-karat gold to create gold braces!
It sounds pretty fancy to have 24k gold braces, doesn't it? Not only are these types of braces trendy, but they're strong, durable, and just as effective as traditional braces.
Though many people get gold braces with yellow/gold bands for a golden smile, you can customize your smile however you want! You can choose gold braces with gold bands, gold braces with colored bands, or gold braces with black bands—it's up to you.
Do Gold Braces Cost More Than Traditional Braces?
Though gold braces may sound pricier than metal braces, at Cooper Orthodontics, gold braces are the same price as metal braces. We want you to choose the treatment that works best for your lifestyle because orthodontic treatment should be a positive experience!
For all of our treatments, we offer a number of affordable payment plans. At your free consultation, we'll work with you to create a payment plan that meets your financial needs and helps you achieve your dream smile.
The payment plan you choose can help to lower your monthly braces costs, and if you have orthodontic insurance, this will reduce your costs too! Our team will help you file your insurance claims to ensure that you get the most benefit out of your coverage.