The Invisalign Process
As top providers of Invisalign, we are proud to offer expert and customized Invisalign treatment for children, teens, and adults in South Florida!
While we think braces look great and orthodontic treatment isn't something to be ashamed of, we understand that many of our teen and adult patients aren't too excited about sporting a metallic smile.
With Invisalign, you can transform your smile discreetly and effectively, without the appearance of braces.
We Are Among Invisalign's Top 1% Of Providers
This distinction means we have the highest level of Invisalign experience. The top 1% status is earned when a practice has successfully treated at least 800 cases in total and continues to treat at least 200 cases per year.
We have the experience, expertise, and knowledge you need to undergo a life-changing smile transformation with Invisalign.
What Is Invisalign?
Invisalign is a system that uses clear, high-quality plastic aligners to create beautiful smiles. These aligners are virtually-invisible, easily removable, and are made with 3D imaging technology to achieve a perfect, custom fit.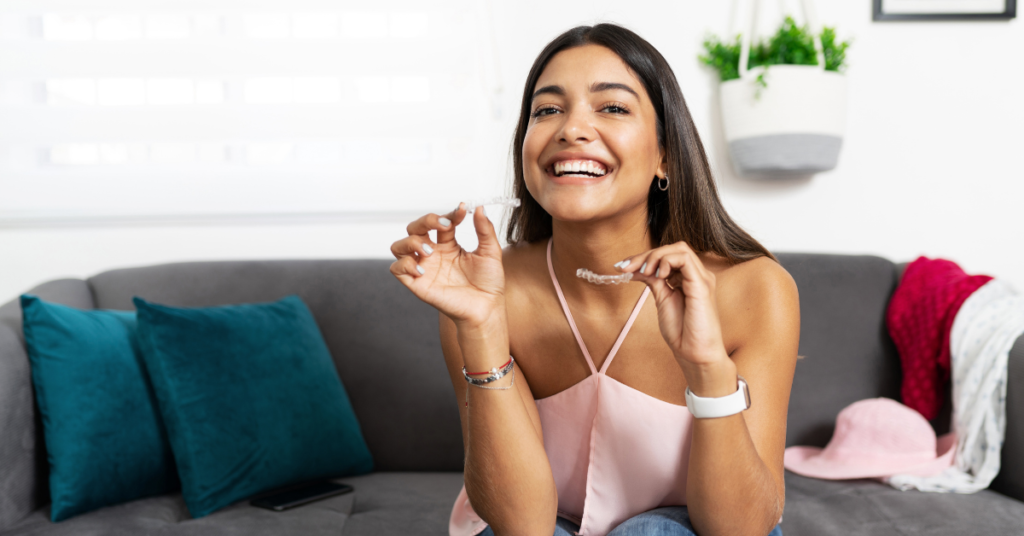 How Does Invisalign Work?
Rather than having braces adjusted, you swap out aligners to progress your treatment. The aligners are changed every two weeks, pushing the teeth closer and closer to their final position. You'll see your orthodontist once every two months until treatment is complete.
Why Choose Invisalign?
Maybe you've heard some amazing Invisalign reviews recently and you're interested in hearing more!
Invisalign is clear, removable, comfortable, and convenient for any lifestyle. Nobody has to know that you're undergoing orthodontic treatment when you wear your undetectable clear aligners.
You can eat, drink, brush, and floss like normal. That means your favorite foods are still on the table, and you don't have to make any adjustments to your oral hygiene routine.
Invisalign is also comfortable to wear because there are no metal pieces to irritate the mouth and your aligners will be custom-made for your smile. When you visit us for your free consultation, we can also show you a preview of your beautiful treatment results before you even begin treatment!
Invisalign Vs. Braces
Invisalign and braces are equally effective, but some patients may benefit from one treatment over the other, depending on their specific orthodontic condition. With more severe conditions or patients with several overlapping conditions, braces might be more beneficial, as different appliances can be combined with braces to apply additional pressure.
Invisalign Pros & Cons
Invisalign technology is designed to allow for a comfortable, convenient treatment experience, so there are not many cons to this clear treatment. Some of the main benefits of Invisalign include:
Patients with Invisalign don't have to alter their eating and drinking habits, as clear aligners are to be removed when eating food and drinking beverages.
Invisalign clear aligners are practically invisible, so you don't have to worry about your orthodontic treatment distracting from your appearance.
Invisalign is made of flexible, smooth plastic, formed to the exact curvature of your teeth.
However, you are responsible for keeping your Invisalign aligners in place. If you do not keep your clear aligners in for 20 to 22 hours a day, you are stunting your treatment process and may require a longer treatment period. It's up to you!