Smile Confidently With Invisalign For Adults
The Invisalign system is a convenient, modern treatment option for adults who want to achieve a beautiful smile without the appearance of metal braces! Invisalign uses a series of high-quality, BPA-free, custom-designed clear aligners to straighten the teeth and align the jaw bones to create an ideal smile.
We'll help you live your most confident life with a smile that makes you proud, a treatment that won't disrupt your lifestyle, and a personalized treatment experience made just for you.
Why Invisalign?
Invisalign is clear, comfortable, and convenient—and you'll still look great in photos throughout your treatment process.
With Invisalign, all of your favorite foods are still on the table. You won't have to adjust your diet to suit your treatment, because Invisalign clear aligners are removable. You simply take out your aligners, eat to your heart's content, then give them a quick cleaning and pop them back in place.
You won't have to adjust your oral hygiene routine either! Just remove your aligners to brush your teeth, floss your teeth or whiten your teeth.
Everything you can do before Invisalign treatment, you can do during Invisalign treatment.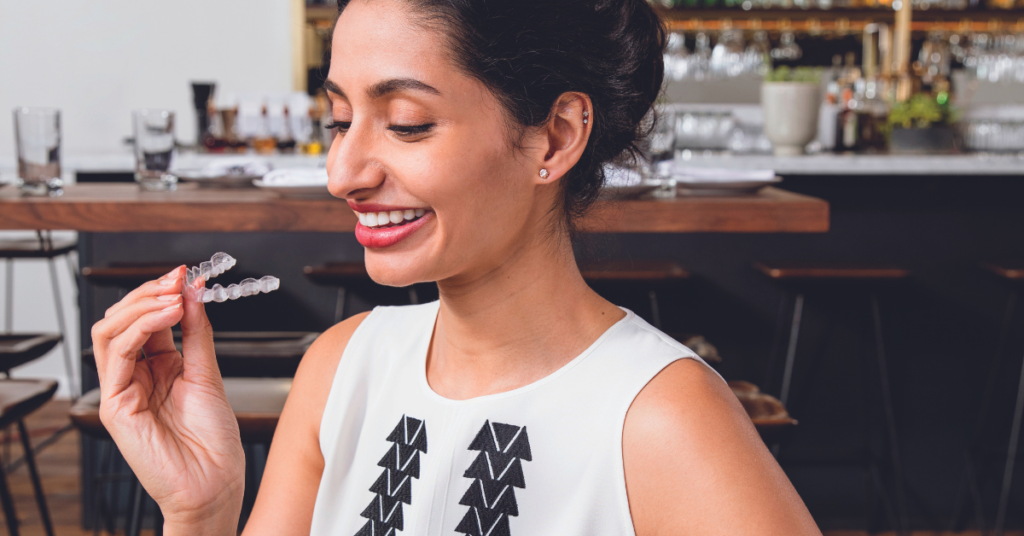 How Do I Know If Invisalign Is Right For Me?
We offer virtual smile assessments so you can determine whether Invisalign is right for you without leaving your home. When you send us pictures of your smile, our experienced orthodontists will provide answers to all of your questions, as well as estimated Invisalign costs.
Our orthodontists can treat the following conditions, including mild to severe cases, with Invisalign:
Crooked teeth
Crowded teeth
Teeth protrusion
Malocclusions (overbite, underbite, open bite, crossbite, midline misalignment)
Gapped teeth or teeth spacing
Lack of confidence when smiling
If any of these conditions sound painfully familiar, we encourage you to request your free consultation with us at any of our convenient South Florida locations!